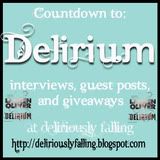 Welcome to our first big giveaway this month!
Lori, Reg and I are super excited about the release of Delirium
and we came up with this month to celebrate it!
All through January you'll find lots of guest posts, more giveaways,
and a special interview with Lauren, which you can be a part of!
But more on that later.
Today, I bring you (or rather, Lauren does)
the HUGE PRE-ORDER CONTEST!
To enter: Just pre-order Delirium at your favourite bookseller,
(all links lead to the Delirium page)
and email the e-receipt to deliriouslyfalling@hotmail.com.
That is the only way to enter.
What is the prize, you may be wondering?
Oh, just an awesome bag of supermega cool prizes.
You'll win:
A signed bookplate for your pre-ordered book,
A signed bookmark,
A bottle of Delirium essential oil,
A signed copy of BIF, personalised or not, it's up to you,
A Delirium Tote Bag,
And a really cool t-shirt Lauren designed that says "I caught Delirium" on the front and then "Shhh. Don't Tell" on the back!
We'll see if we can get a pic with all the prizes, and let you know what more we have for you.
This contest IS INTERNATIONAL!
Thank Lauren for that!
And it ends on Feb 1st.
Don't forget to grab the button for the Countdown, and share the news on Twitter!